Good Morning!!
Join us all month long in January as we post challenges not by theme, but focusing on using up our stash!
Let's face it, we all have a scrappy stash …. things that we are hoarding, forgot we had, never got around to using … yeah, you know you have it, too!
So join us as we say "OUT WITH THE OLD, IN WITH THE NEW!"
A new Blue Plate Special challenge is posted each Wednesday and Saturday, and participants have until the 3rd of the following month to complete and post their creations.
Prize will be a $10 Gift Certificate to their online store of choice.
*any month that we have more than 50 completed layouts/creations, the prize will be a $20 Gift Certificate instead of $10.
Today in our stash we are going to take a look at fibers. How many of you back in the day did fiber swaps? Then put them all in organized containers and never used them? Oh if we are confessing, I guess that's ME!
Beth helped us unleash the beast last month in her yarn on a page challenge. Today you can use as much or as little on your project, whatever it takes. This first one my DH wanted a shadow box of this rock that he has been saving all these years on his dresser and just told me about last week. This was a story to tell that will leave a legacy. I was so excited to surprise him with it for our anniversary. I suggested a picture so he got that to me right away. Then I told the facts on a tag and used three different fibers on the tag. They are kind of hard to tell but they are there. and Yes he loved it!!
This next layout I used fiber around pictures, around the whole page and anywhere I could.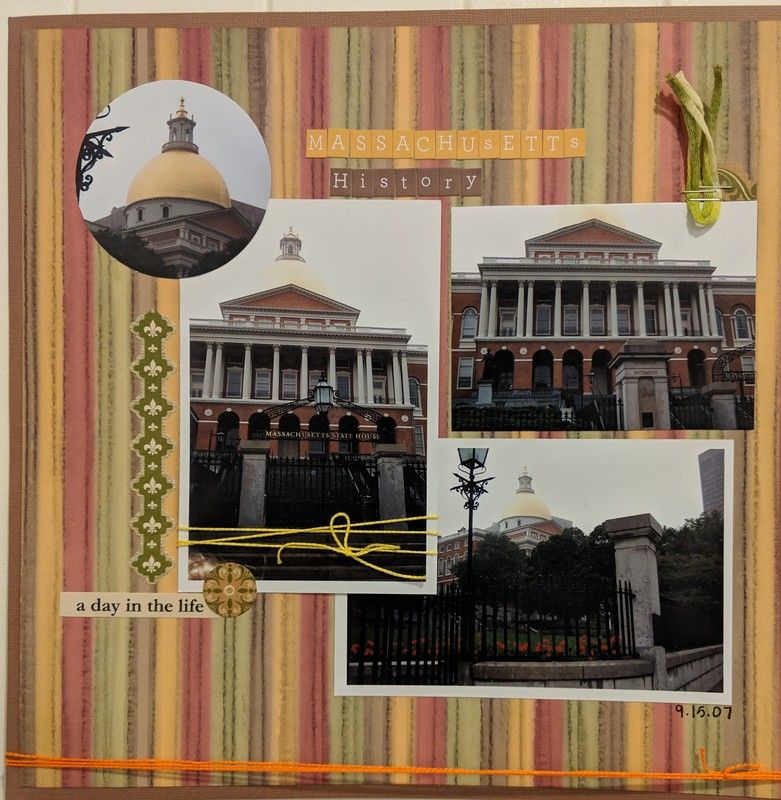 Have fun digging into your stash! Let's do this!!